THE MOBILE PRESENTATION ISLAND
THE MOBILE PRESENTATION ISLAND
PACK'NLOG
Dimensions
- flat: 800 x 600 x 650 mm
- slanted: 800 x 600 x 650/850 mm
The MPI is compatible with all standard one-way and returnable packagings
Attention grabber: Create better displays with the mobile presentation island
THE MOBILE PRESENTATION ISLAND is a professional product display for secondary placements, promotions, and campaigns. Whether fruits, vegetables, flowers or baked goods – THE MOBILE PRESENTATION ISLAND is the perfect attention grabber for your products. It can also be flexibly adapted to the space conditions on site as well as folded and stored away in just a few steps.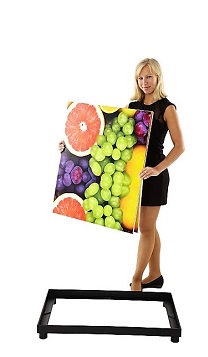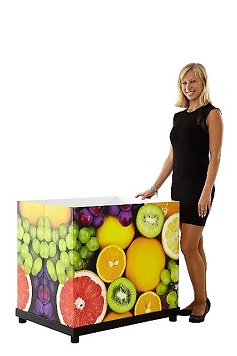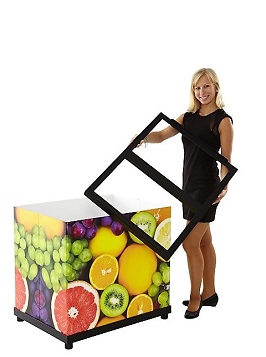 This is how the MOBILE PRESENTATION ISLAND (MPI) works
conveys attractive images and messages over a large area
is of modular design and can be optimally adapted to meet individual space requirements
is lightweight, movable and can be quickly set up and dismantled
can be folded down flat and stored in a space-saving manner
is suitable for a wide range of products
A plastic or cardboard ring is inserted into a sturdy plastic base frame. A flat or slanted stacking frame is then placed onto the ring which acts as a product holder.
The MOBILE PRESENTATION ISLAND is ideal for the presentation of fruit and vegetables in plastic, cardboard or wooden crates. A flat tray can optionally be inserted into the stacking frame, thereby making it suitable for the display of flowers, plants, herbs as well as bread, pastries and other products.
The plastic or cardboard ring comes in the colour of your choice and can be printed individually. This allows you to convey emotions to your customers by means of appropriate images and messages.
The base frame can be fitted with legs or wheels, the latter allowing the Presentation Island to be flexibly moved to the first customer touch point outside of the store. The MOBILE PRESENTATION ISLAND features a range of additional equipment.
You might be interested